Reading Time:
3
minutes
Of the Heart and Soul - A Mellifluous Whisper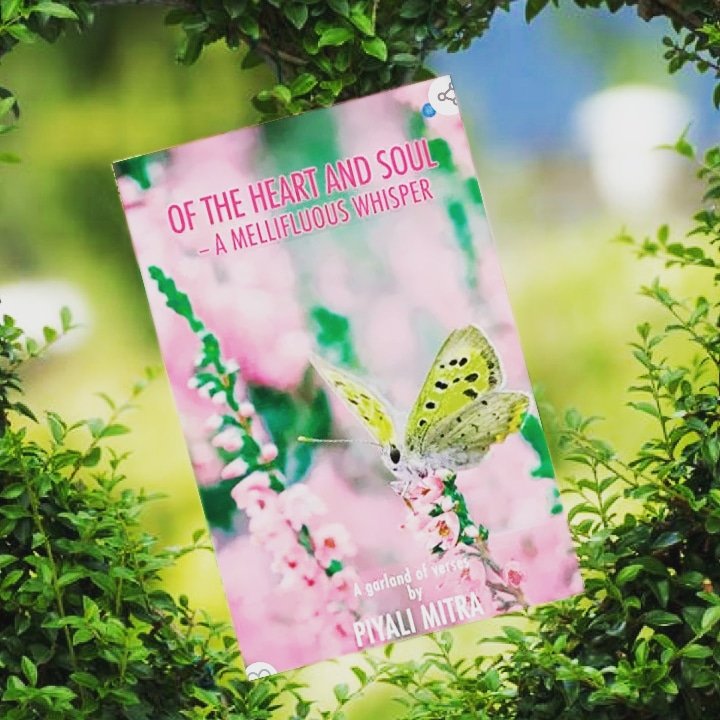 Love is a mellifluous song
They are voices that coos in gesture and
Love is the best of all emotion Unpolluted and sparkling,
Like the light of a thousand diamonds,
Love creates rainbows and ripples of affections.
There are some undrafted songs,
Those lines are lost forever.
Love sometime feels like shards and splinters,
That when pierced with, bleeds profusely.
Music, country roads and future dreams
Loose their way in the dark unconscious oblivion."
Love is all about hope and faith.
It demands patience and nurture,
It is no mere bewitching spell
That once found and lost forever.
Love is a song that heals and puts the gaping
Cherish every moment of togetherness
Through the laughter and tears of joy,
And breathe the sweet summer air.
Love embalms and sets the heart free
And gives the will to live.
"Emotions it is said are what makes us human…" 
This is how Piyali Mitra starts her 21 poems collection entitled "Of the Heart and Soul – A Mellifluous Whisper". 
Before even reading the poems, there is one crucial question: what does this wonderfully fluid, rarely used and highly plastic word "mellifluous" mean?
I have to admit that it is one of my favorite words in English language, anlong with "Serendipity" and "unfathomable".
The author refers to iher book as a  "garland" of poems. A garland is a united, hamonized collection of flowers, that crown the head. A garland is the visible sign of beauty.
Mellifluous
The origin of Mellifluous stems from the Latin noun mel meaning honey and the verb fluere, to flow. It literally flows like honey. 
Something or somebody mellifluous is sweet as honey, gentle, melodious to the ear, soothing…
Its plasticity matches its phonetics. The word by itself suggests a protected, slow and benevolent environment.
A perfect craddle for Piyali Mitra's 21 poems.
As the poet writes in her foreword, they deal with the highest of all human feelings: love.
Harmonious Dualism
"This book speaks of how love can be a source of inspiration and at the same time a source of abjection" according to the author.
And that's exactly the power of her "garland" of poems. The dynamics between the generative power of a strong feeling and its intrinsically destructive twin power. 
Rejection, dejection, which comes with pain, suffering, rage, and silence. The author speaks of her mother who inspired her deeply.
The variety of tones is one of the most surprising facets of the book. Sometimes the verses sound like incantations, sometimes like mundane outbursts.  
Love and Nature, Love for Nature
Each poem is a polysensory experience. Colors, odors, shapes, the four elements are equally and ubiquitously present throughout the book.
For all Victor Hugo fans, this is it. The animist touch of the poems transform them into lifetime experiences. With each object speaking its own language, words convey the essence of its references.
The poems
Already the mere titles of the poems are a garland of words and soul.
The Unseen… A Call to her Soul. A lonely Cameraderie. Welcome October. Since the day I met you. Twilight whispers. Love-Lies-Bleeding. Spring of a Different Kind.
Piyali Mitra's world is a world of circularity. After October there is Spring, after suffering there is joy, it all is part of the one and same life. Our Being. 
Poetic language
Martin Heidegger who philosphically analyzed the substrats of poetic language, especially of Hölderlin, said in the recording on video in this article: 
"Language in its daily usage appears as a means of comprehension and these means are used for the usual relations of life. Only there are still other relations then the usual ones. 

 

Goethe calls the other relations "deeper" and says of language: In ordinaray life we scarcely get by with language because we only indicate superficial relations.

 

As soon as speech is made from deeper relations, another language immediately appears: the poetic.
And Piyali Mitra masters the language of deep relations to ourselves, to each other and to nature perfectly.