Reading Time:
6
minutes
The Musical Soul of Algorithms
– This text was initially published in the book Serendipity ou Algorithme by Katja Rausch –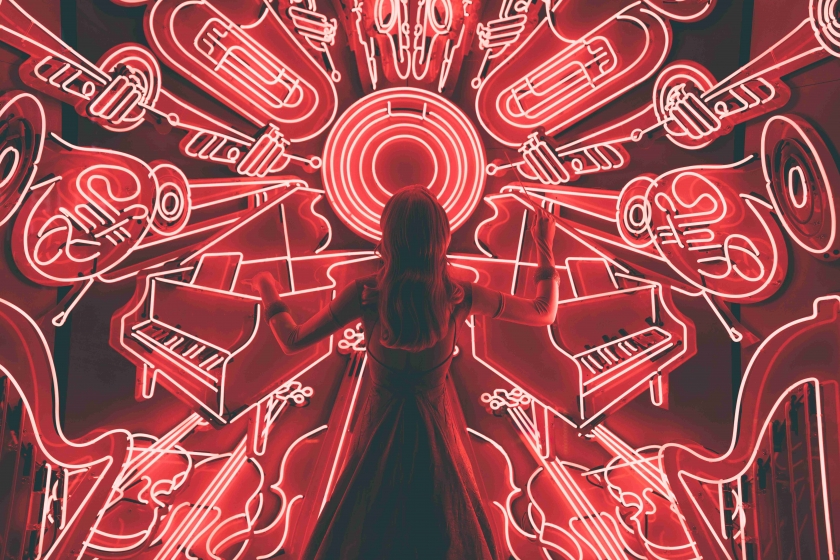 My eyes are burning. My carpal tunnel bets on me losing my hand in the mid-term future. My back already became numb. Yes, I guess I'm finally losing that lower back vertebra. And most importantly, my ears – my most precious instrument right now – are progressively muddying what I'm listening to (can't blame them really, after listening to the same drum and bassline for the past 2.5 hours). All that while I have a deadline within the next 25 minutes to send the damn file.
"Ahh, it's good enough" – render, upload, send, click. Have a sip of the already cold coffee. They won't notice anyway. 30 minutes later, I'm explaining over the phone why not editing the 27th guitar line is actually the way it's supposed to work in the song. And no, smoking in the recording booth couldn't have any effect on the microphones at all. Or on the singer's voice. It's just that the producer/artist – which is me – obviously sucks at his job. Welcome to the world of music creation and production.
I have spent the most of the past 17 years working on music. Even though it's not my 'profession', I've managed to squeeze out two full albums, multiple single releases, and tons upon tons of unfinished ideas and projects. I cannot say I'm a top-tier musician, but if all that experience has taught me something is that if you want to listen to great music, you have to create it yourself.
Most people lack deeper understanding of what goes into creating great works of music.
They hear and experience the end result – that 3 minute pop-rock hit, or that 5 minute banger in the club. That's just scratching at the surface, really. A safe bet would be to simply multiply by 555. Yes, that's right: five hundred fifty five. It takes at least 555 times the time creating the damn tune than it takes listening to it.
So, if it took you 5 minutes listening to it, it took the artist (and his mix engineer, mastering engineer, guitar player, drum player, FX designer, producer, the cleaning lady, the repairman, the groceryshop clerk …) close to 2,775 minutes creating it. That's about 46 hours. A full work week and some overtime. Not bad, eh?
2. Algorithms in music
But I digress. What's the reason I made such a long overture?
Well, while I wholeheartedly allowed myself to dive into this wonderful world of music creation and production, the capacities of tools available just kept improving. So much so, that you can now create a whole song simply by using algorithms. It's something like an instant egg boiler: fill the water, put the eggs, turn on max, and you have well-boiled eggs within some minutes. Even a man can do it! But it takes a special kind of talent to burn a boiling egg (not that I have, of course…).
However, would you listen to fully algorithmically created music? And more importantly, would you [appreciate] it? It's a fair question. After all, would you pay more for an 'automated' street corner selling döner, or for a hand-made dish in a fine restaurant?
(I'm intentionally trying to avoid explicating the dilemma between a finely boiled egg and a burned one; but I have a feeling it will come back to bite me sooner rather than later)
I guess you would go for the second. Or, let's return to music. What strikes you as more soulful – an artist that actually performs his work, or an artist just pressing play and having you listen to it?
What I'm aiming at here is the term I just used – the soul. We're not listening to music simply to have some organized noise go through our nervous system; we're listening to music to grab a piece of the artist's soul.
Similarly, true artists want to embed their soul into their works – and not become a music production machine bent solely on making money (like there is any, anyway).
However, as I said before, algorithms are becoming so good at imitating what we do, that the end result is becoming indistinguishable from the 'real deal'. Thus, can algorithms have a musical soul?
3. Can they?
Currently, nope. It's blatantly obvious with anyone that had some extensive musical listening or creating experience that algorithmic music is largely a colorful nonsense. But in the future… I would bet on – yes. You see, algorithms are becoming smarter and more capable by the day. But for now it is commonly taken that they lack subjective experience (with which I wholeheartedly disagree).
Thus, they purportedly don't actually experience what they create – they just follow instructions. The best symphony created by a program simply lacks essence because the algorithm has no idea what it is doing, how it sounds and feels.
But are [we] different? We like to think we are. But Socrates has repeatedly shown that our deepest intuitions are often based in – nothing. That's right – when we go deep enough in our beliefs, we most often find out that they come out of 'nothing'. We simply take some things for granted (or as philosophers would say: as axioms) and don't question them.
For example, our subjective experience is simply [there]. We cannot prove it, but we cannot disprove it either. It just is. Similarly with the perception of color, contrast, cause-effect chains, and the like. So, we are unable to prove our subjective experience. How can we then disprove an algorithm's subjective experience?! The truth is – we cannot. Does that mean that algorithms experience what they are creating?
Not necessarily, but I would argue that it is true. They do. Of course, they are far less sophisticated in it. A turtle obviously has some subjective experience of Beethoven or Toshe Proeski, but it is very, very, [very] rudimentary.
And to have a musical soul one needs a deeper, more sophisticated experience of music – both while creating and experiencing it.
4. See a doctor
"Alright. So basically, you're saying that both humans and machines do experience music and have at least the potentiality for a musical soul? Is that it? Why don't you see a doctor and check your head? There may be something wrong with you".
Yes, I am saying that. And thanks for the medical advice. You may be right.
But what if I am right?
Consider this. People are entities in the Universe. The Universe follows the physical laws of reality. We were created through a long evolutionary process (spontaneous or started and/or guided by a Creator, regardless) – a process that followed these very laws. In the same manner our brains were created. The inner mechanics and chemistry of the brain follow the same laws. And they seem capable to inspire a high-schooler to download a pirate copy of a DAW (Digital Audio Workstation) and start creating music.
Seems pretty procedural, right? Pretty determined and process-like … almost algorithmic, right? Well, that's because it is. (For the record, I'm not negating or supporting free will and creativity, it's a way deeper philosophical discussion for which here there's no space). In this manner, even our own creativity seems algorithmic. What's the difference between us and our algorithms of today? Especially since they are also part of the same Universe we inhabit? Nothing in substance – just in level of sophistication.
5. The musical soul of the Universe
I guess then that the right question to ask is not whether algorithms (can) have a musical soul. It's whether the Universe has one. If it does – we do too, but also algorithms. If it doesn't, then, that's really bad news for a whole industry and some few millions of amateurs and partygoers.
So, the big question: does the Universe have a musical soul?
Yes. It does.
How do I know? Well, next time a great piece of musical work comes on the radio or on your media player, devote full, undivided attention to it. And you'll directly connect with it. As you probably already did in the past. Similarly to how we can only attest to some truths that cannot be (dis)proven.
And notice this too: all great songs have a little bit of 'disharmony' lurking here and there in the sea of harmony, just to spice things up, just to take you out of blindly listening to them and make you notice what's going on (have a listen to The Verve's Bittersweet Symphony right now, or to some Flamenco – the European Blues). Similarly to how a burned egg can actually be more experience-worthy than a well-done one. (It just had to come back)
Don't say I didn't warn you, though.
Eindhoven University of Technology – Postdoc, Industrial Engineering and Innovation Sciences, Philosophy & Ethics
Latest posts
Eindhoven University of Technology – Postdoc, Industrial Engineering and Innovation Sciences, Philosophy & Ethics
Andrej is a seeker of the new and admirer of the old. On a mission to make a better world, starting of course with making a better himself. He is working on translating and applying wisdom of old in the modern, hectic world. Infatuated by technology and science, but also with spirituality and the divine. A doctor in Law, Science and Technology (Italy) and in Informatics (Luxembourg). Currently working on uncovering the mystery of life, with the intuition that there might be nothing to uncover.