Digital art : NFT, Beeple and $ 69 millions for a .jpg ! Genious? Or crazy?
Reading Time:
5
minutes
Incredible but true!
All is true. And incredible.
The name: Beeple.
The amount: $69 million.
Once hackers attack, be sure it's bankable.
It's the case of the digital art platform www.niftygateway.com. The new Eldorado in digital art!
The high-profile "digital heist" took place in March 2021. According to The Verge, hackers stole digital art work worth several houndred thousands of dollars. And to neatly finish of their job, they also stole a massive amount of credit card data belonging to Nifty clients, only to buy more NFT art. One clearly feels the irony.
But why should someone attack a digital art platform?  And what are NFTs?
Well, because that's where the big money is right now. The following figures will make your head spin.
But first a few explanations.
What are nifties, non-fungible tokens, NFTs?
Nifties or NFTs (non-fungible token), are the new goose that lays golden the eggs in the digital art world.
Only a month ago, the digital art market has been valued to $2 billions, for the first quarter 2021! 
It is no secret that with the emergence of digital distribution platforms like youtube, vimeo and alike, music, films and other digital creations have been heavily and illegally copied and misused. A real concern, both from a legal and ethical standpoint.
Plus the explosion of new art forms, like "human" robotic art or "robotic" robotic art by gynoids like Ai-da or Sophia embracing careers as  artists (sold for $600,000 a self-portrait entitled Instantiation), the situation reached an stupendous high. 
Legal concerns about the artists' credits hence the non-respect of intellectual property, copyright and ultimately royalties of artists had to be regulated.
Surprisingly, non-fungible tokens (NFTs) are meant to provide an answer. But what are NFTs?
The NFT technique is a digital way of authenticating any kind of digital art work through an unique token generated by the blockchain. Consequently, each work of art has a proven and unique creator / owner.
Authenticity and uniqueness are key words. And ownership.
So, NFT technology is based on the blockchain, known for its security. But haven't we heard of the digital heist? So hackers have proved us quite quickly that everything is hackable. Like the Titanic, hailed by the White Star Line as "unsinkable"… 
NFT, known by the ultra-rich, for the ultra-rich?
Crypto-art. Crypto-currency. A speculation or a reality? 
The latest coup: $16.8 millions (nearly 20 million euros), for digital NFT works by the artist Pak.
The auction was organized by Sotheby's, during a 3-days auction marathon, from Monday April 12 to Wednesday April 14, 2021.
It is remarkable to see how fast these traditional auction houses (Sotheby's created in 1744 in London, Christie's in 1766 in London) adapt to this ultra-juicy new digital market.
Also the auction strategies have evolved and adapted to the new art. Rather than selling a single piece once (as did Christie's with Beeple – we'll come it later), Sotheby's has auctioned an animated "cube" by Pak "in unlimited quantities" on Nifty Gateways.
Result: one pixel sold at $1.36 million dollars.
23,598 spinning cubes were sold in 3 days.
For a total of $14 million.
3,080 collectors have bought at least one cube, according to Sotheby's.
Makes one's head spin like Pak's cube.
THE COUP of the century: $69 million for a digital collage
$ 15 million more than Monet's Water Lilies
The digital artist Beeple, called Mike Winkelmann of South Carolina in an analog world, has sold its digital collage "Everydays: The First 5000 Days," for $69 million in an online auction at Christies's.
And here is the laconic comment by the third most expensive artist in the world.
"We are witnessing the beginning of a new chapter in the history of art." 
Admire another Beeple… called Gigachart. You surely recognized Grimes' companion (another NFT winner), Mister SpaceX himself.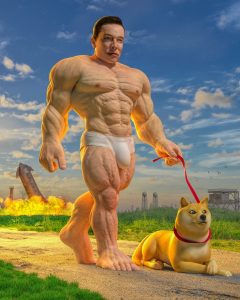 NFT Madness
Let's gaze at some figures from recent NFT auctions.
Grimes, 10 musical creations (videos) for $6 million. Below Death of the Old sold for $389,000.
The rock group Kings of Leon sold $2 million worth of music through NFTs.
Twitter founder Jack Dorsey has auctioned off his very first Tweet for a whopping $2.5 million.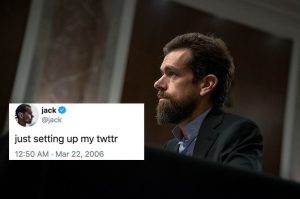 Or a NFT X-ray of actor William Shatner's teeth, ex-Captain Kirk. He grasped the grotesque madness of the movement with a laconic: "Who does something like that? Me!"
"The recent introduction of non-fungible tokens (NFTs) and blockchain technology has enabled collectors and artists to verify the rightful owner and authenticity of digital artwork." Recalling that this is a "turning point for the digital art market" Christie's
The 5 most expensive artists in the world!
5. Ed Ruscha, Hurting the Word Radio #2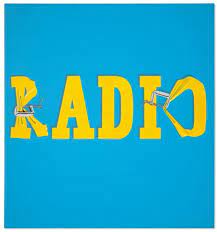 1964 painting by American pop artist Ed Ruscha, Hurting the Word Radio # 2, sold for $ 52.4 million (€ 47.1 million) in 2019 at Christie's
4. Sacha Jafri, The Journey of Humanity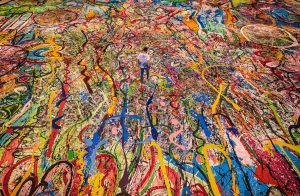 The Journey of Humanity, the largest canvas in the world (1580m2 = 4 basketball courts), for $ 62 million (€ 52.8 million), at a charity auction in Dubai on March 22, 2021.
3. Beeple, EVERYDAYS: THE FIRST 5000 DAYS
On March 11, 2021, the collage sold as an NFT for $ 69.3 million (€ 58.3 million) at Christie's
2. David Hockney, Portrait of an Artist (Pool with two Figures)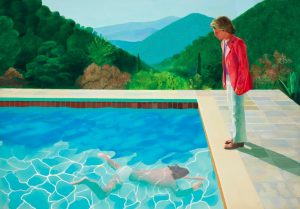 Christie's on November 15, 2018. $ 90,3 million (79,7 millions  euros)
Christie's on May 2019 for $ 91 millions (81,1 millions euros).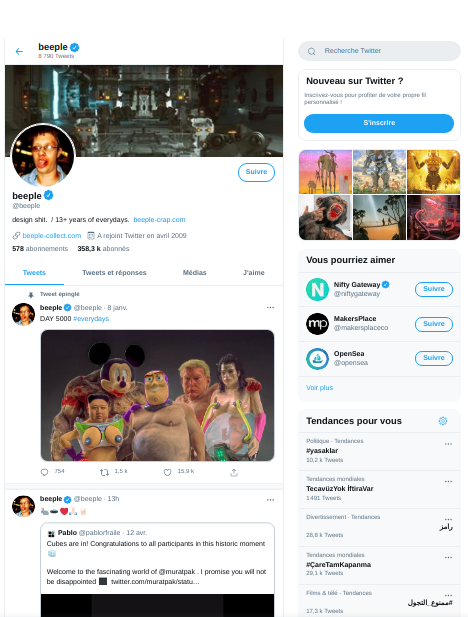 Who is the winner?
The artist? Yes, because NFTs are new guarantee against illigal copies and become an additional source of revenue.
The buyer? Maybe. Each buyer will be the official and rightful owner, even if just anyone can view, download or copy the video, music, movie on youtube. Just like I just did for the $69 million collage by Beeple. 
The collector? Certainly, because here we move in a top-notch $2 billion art market. Speculation is key.
The investor? Surely.
Art? Not so sure.
Ecology? Surely not. The NFTs' carbon footprint is also skyrocketing: 12 million metric tons (1 metric ton = 1000 kg). This is the equivalent of all of Panama's carbon emissions.