Minting a Brave New (Meta)art World
Reading Time:
12
minutes
Minting a Brave New (Meta)art World
In January 2022, the Seattle NFT Museum (SNFTM), the first physical space for the display of digital art and NFTs opened its doors. Soon NFT metaverses will plunge us into entirely new immersive experiences. All flashy and shiny. For everybody. Art for all? A truly peer-to-peer NFT digital art marketplace. Free of access, with unlimited creative power unleashed. Really? Is that so?
To detractors, however, like critic Waldemar Januszczak or artist David Hockney, the NFT marketplace is a home for "morally bankrupt, environmentally vandalistic money-grabbers whose creations barely qualify as art." (Source : The Guardian) Quite a harsh point of view. But why is there such polarization?
Which outlook is right? Who does see clearly? Is there some obvious MYOPY in digital arts?
It so seems that the most common and popular diagnoses in our hyper-connected world seem to emanate from ophtalmology : myopy or short-sightedness. Blind-spots or amblyopia – known as "lazy eye", even cataracts – blurry vision or conjunnctivitis – known as the "pink eye" are many deseases affecting the eye, the vision, the perspective.
Let's explore some while taking a closer look at the "digital arts divide", the "pastel green sustainable crypro-art" and the "digital Cerberus", the new gatekeepers of digital art.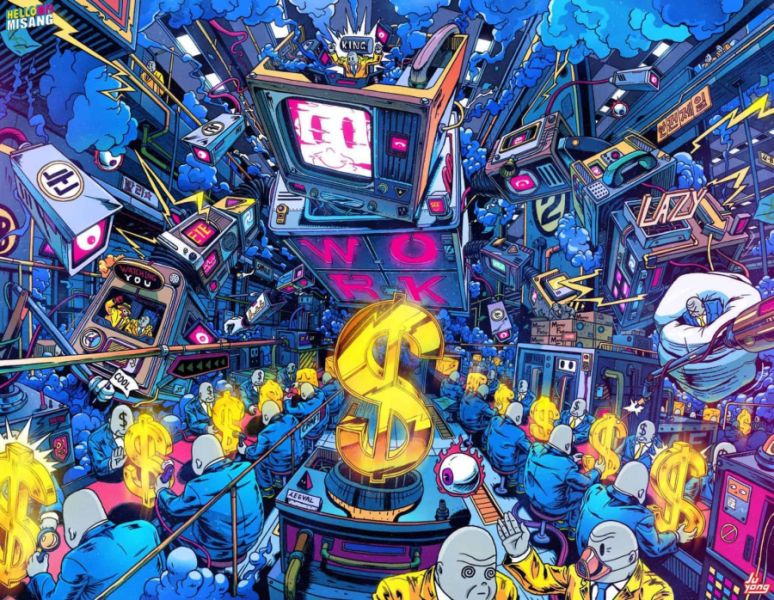 "Digital arts divide" or how discriminative is the NFT-market?
"When I think of the future, I imagine our lives will be filled with VR, AR and NFTs. Future generations won't differentiate between the online and offline world. And NFTs will be a feature of that hybridity." says Shavonne Wong, a Singapore-based 3D Virtual Model Creator and NFT Artist.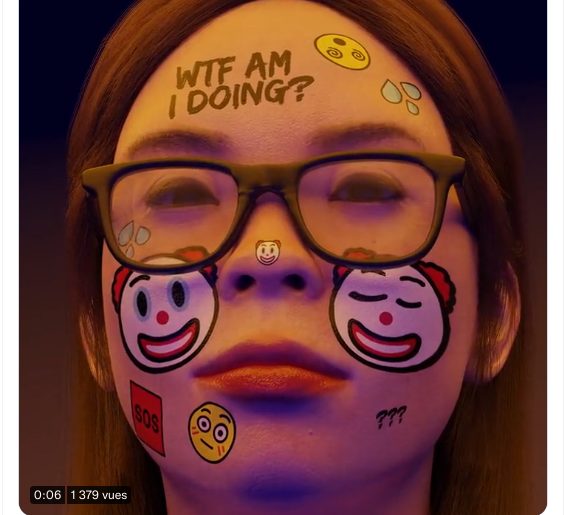 Shavonne Wong's recent tweets express a mix of doubt, creative titubation and real-time self-questioning flanked by a candid attack of the "impostor syndrome". Alonside with a quest for fame and quick money. The artist's psyché seems to be affected by crypto-art. 
"WTF am I doing?", her latest NFT expresses a lack of confidence in her own minted "pieces" and how porous the beaming digital NFT world with its "NFTers" has become. 
Money aside, does minting a NFT mean that you ARE an artist? Do artists who mint, still consider their own art as an artistic value-addind creation or mainly as a swift chance to cash? The multiple testimonies on social media raise doubt.  Is click-minting leading to artistic self-empowerment or self-doubt?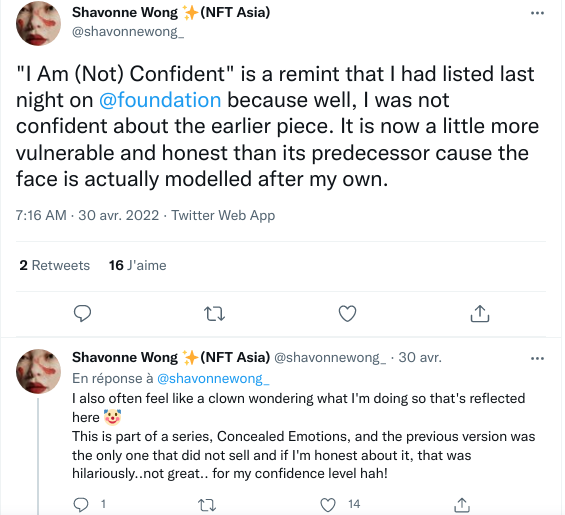 So far Shavonne Wong's NFTs have earned her 26 Eth (or S$87,126) on Foundation and SuperRare.
She could be super confident, but as her tweets show that serious doubts have invaded her artistic being when tweeting "I also often feel like a clown wondering what I'm doing" or "I Am (not) Confident".
With millions of new NFT "artists" prices have dropped. With dropping prices, confidence seems to drop too. 
A while ago, the House of Ethics had been minting a NFT called "Ad absurdum ad absurdum ad absurdum ad absurdum".
Knowing Katja Rausch, the Founder of the House of Ethics, I can be assured that it was first and foremost an experiment to understand the minting process per se alongside with a clear statement on a shady system built on ludicrous moments of fame framed by a digital gold rush.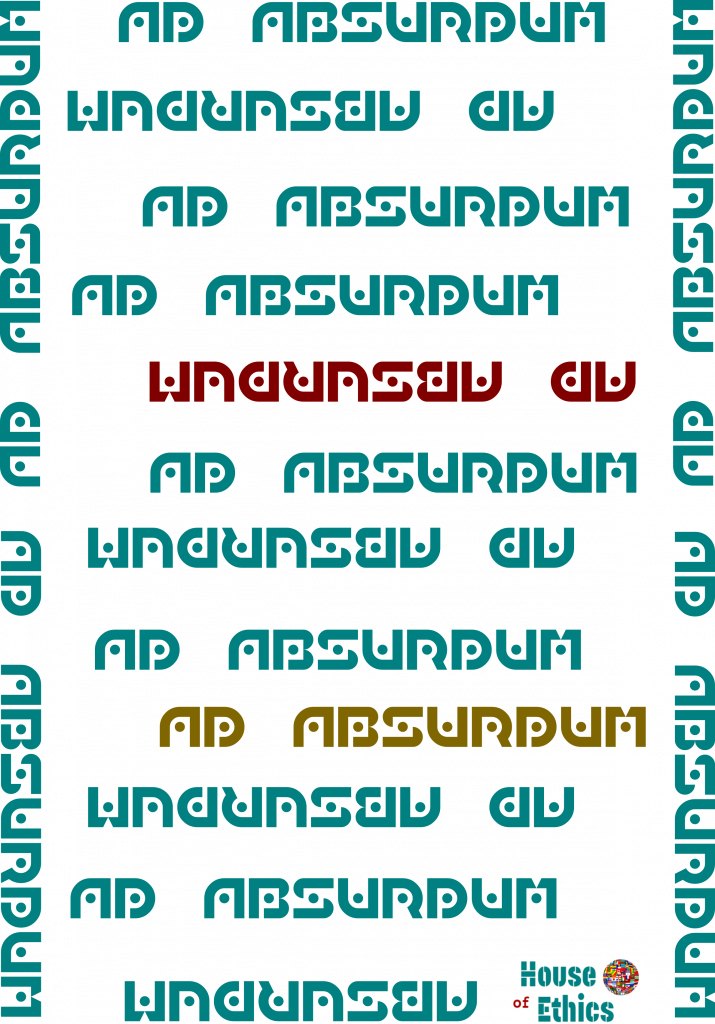 Minting NFTs : A democratic new art form?
Open and undiscriminating?
The new crypto-art world has been hailed as a new democratic art form, open, accessible and reachable for everybody. Some OpenSea statistics, as of January 11, 2022 show solid growth:
– Daily volume on OpenSea record almost touched $261m
– OpenSea surpassed 266,000 active wallets in the first 10 days of 2022
– Monthly volume expected to break previous ATH of $3.4 billion
(Edit: according to this Dune Analytics dashboard)
All dandy trendy for everybody then? Finally the long-seeked equity wealth platform for all? 
After having a closer look at the recent dynamics, the opposite is quite the case.
There are at least three different levels of digital divide or inequities to reflect upon. The first is obviously technological.  The second cultural/artistic and the third one, related to marketing. 
1) The technological divide
Obviously crypto-art is based on technology. You need equipment and an Internet connection as well as basic minting know-how to digitalize your art work, create a token and a wallet.
Once you made it to the marketplace, that's 50% of your minting meta work-out. Now starts your personal branding to improve your profile reach and make yourself visible to potential buyers or collectors.
"NFT Toolkit: 10 essential tools for any NFT artist in 2021" help "artists" make the cut. This is one of the many examples of technological, social media tools you have to/ must master:
Twitter
Discord /Disboard
Linkfire
OnCyber
Pinata
Clouhouse 
Reddit
Metamask
Insta
Buffer
And then there is NFT Market Optimization and and and… 
These prerequisits cut out an entire segment of people who are not connected, have no digital social media knowledge or skills or simply no proper computer equipment.
The technological divide also calls for a generational divide. In the US, 23% of millennials in the US collect NFTs. (Morning Consult)
2) The cultural divide
Eventhough Internet is supposedly a connected global village, supremacy, regionalism, exclusions and hegemonies are no longer buzz words but saddening realities. And the NFT crypto-world is no exception.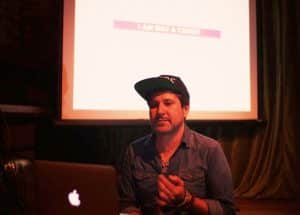 NFT Artist George Galanakis founded CRYPTO ART WEEK ASIA when he realized crypto art was very Western-centric. The first crypt-art week Asia happened from 9-17 July, 2021 and was featuring more than 300 of biggest names in digital art in Asia, with physical exhibitions in six cities and over 50 virtual galleries.
One of the major Asian NFT stars, Mr Misang, has established an almost a cult reputation among Asian NFT artists. Total NFT sales: 903 Eth (or over $3 million). He did not miss the Crypto Art Week Asia.
3) The marketing divide
After the flooding of NFT "art" and the proliferation of millions of new NFT "artists", the market needed regulation and stratification. The objective was to create high end platforms, rarify, hierarchize and select again. By introducing art criteria, methods of application and elite status. By recreating exclusivity through exclusion.
"The market has been smart enough to create differentiation within just a few months. These days, popular NFT platforms such as Open Sea and Rarible are inundated with too much art. So more exclusive platforms such as SuperRare, Foundation, Known Origin and MakersPlace have emerged, which most NFT artists want to get into." says Shavonne Wong
Elite platforms like SuperRare have a clear mission statement with  promises delivered through targeted marketing jargon:
Pioneering art market royalties
"Artists receive continuous royalties for all secondary sales on their artworks – forever"
Built for longevity
"All transactions happen on-chain, creating a tamper-proof record of each artwork's history"
(Source : superrare.com)
It so happens that SuperRare and some of the latest premium NFT art platforms are only accessible for artists though application. The platform then decides whether it accepts the art to be minted and displayed. Far away from the original democratic approach. 
"This is where the top NFT collectors go to look for the best of the best." says Wong who was accepted into the premier platform SuperRare.
The NFT evolution seems to mirror once again the darwinian selection process of traditional art networks, where only the fittest and best valued will survive. NFT artists admit that even though they have earned cult status and earned a load of money through NFTs on digital marketplaces no traditional art galeries have reached out to them.
The "pale green crypto-art"
The crypto-currency Ethereum alone is responsible for 96,200,000 tons of CO2 since its inception in 2015; this is equivalent to the combined annual carbon emissions of the 84 least carbon intensive countries around the globe. 
How much do NFTs account for? That is a tricky question which is hard to quantify because of the continuous lifecycle of creating, selling and selling and re-selling over and over again, which is the essence of minting, the essence of the NFT art world.
These numbers are related to the use of the blockchain technology and are not exclusively accountable for NFT art mining, which is only a small portion of the blockchain activity.  Nevertheless, fact is that the energy-voracious technology is mind-blowing polluting.
In 2020 Offsetra, launched carbon.fyi, a user-friendly carbon accounting tool. According to the platform, one single NFT could emit as much as 80kg of CO2.
When Grimes (Elon Musk's partner) dropped her NFTs on February 28, 2021, it resulted in 122 tons of carbon, and her open edition of "The Bitcoin Angel" 468 tons. (source: artnews).
It seems though that carbon emissions related to NFTs are more connected to the mining process than the minting process. Therefore, many artists rebel and look for alternatives.
"The crypto art world is a more interesting and sustainable model for the artists. But there is an urging need to dig deeper into the notion of 'sustainability' ." radarboy3000.
radarboy3000 is a South African experimental new media artist and South Africa's most awarded digital artist, creating digital and physical works for some of the world's biggest brands including Disney, Cartier, Coca Cola, Audi, Lucky Strike, American Express, and Singapore Airlines. He is living in Singapore and his latest generative artwork Permanence allowed spectators to directly experience the minting process as they interacted with the artwork.
With 848 generative artworks being minted and the creation of 345 wallets over the course of ten days, the exhibition helped to develop and deepen people's understanding of crypto art, the minting process, and the notion of digital ownership. (radarboy3000 insta account)
What about the NFT's carbon footprint
To give an idea of comparison, an average car consumes about 41kg CO2 on 150 km. 
Over its blockchain lifecycle, the average NFT can accrue a stunning footprint of 211 kg of CO2. Fact is that the NFT lifecycle is always ongoing. (Here are some details, but the entire calculus is to be found at the link above.)
Every bid creates 23 kg of CO2
Every sale, 51 kg of CO2
Every transfer, 30 kg of CO2
The climate controversy is a nightmare to be solved to be viable
Many artists, collectors and tech poeple believe dealing in crypto-currencies as being ecologically unethical.
Even the big winners of the astronomical deals like Mike Winkelman (Beeple : $69 million earned),  says
his [Beeple] artwork will be carbon "neutral" or "negative," meaning he'll be able to completely offset emissions from his NFTs by investing in renewable energy, conservation projects, or technology that sucks CO2 out of the atmosphere." (Source: The Verge)
Mr Misang the cult Asian NFT star is also totally aware of NFTs' carbon footprint and even donates a portion of his earnings for carbon credits.
"Space Cat," an NFT that's basically a GIF of a cat in a rocket heading to the Moon has a carbon footprint equivalent to an EU resident's electricity usage for two months, according to the website cryptoart.wtf.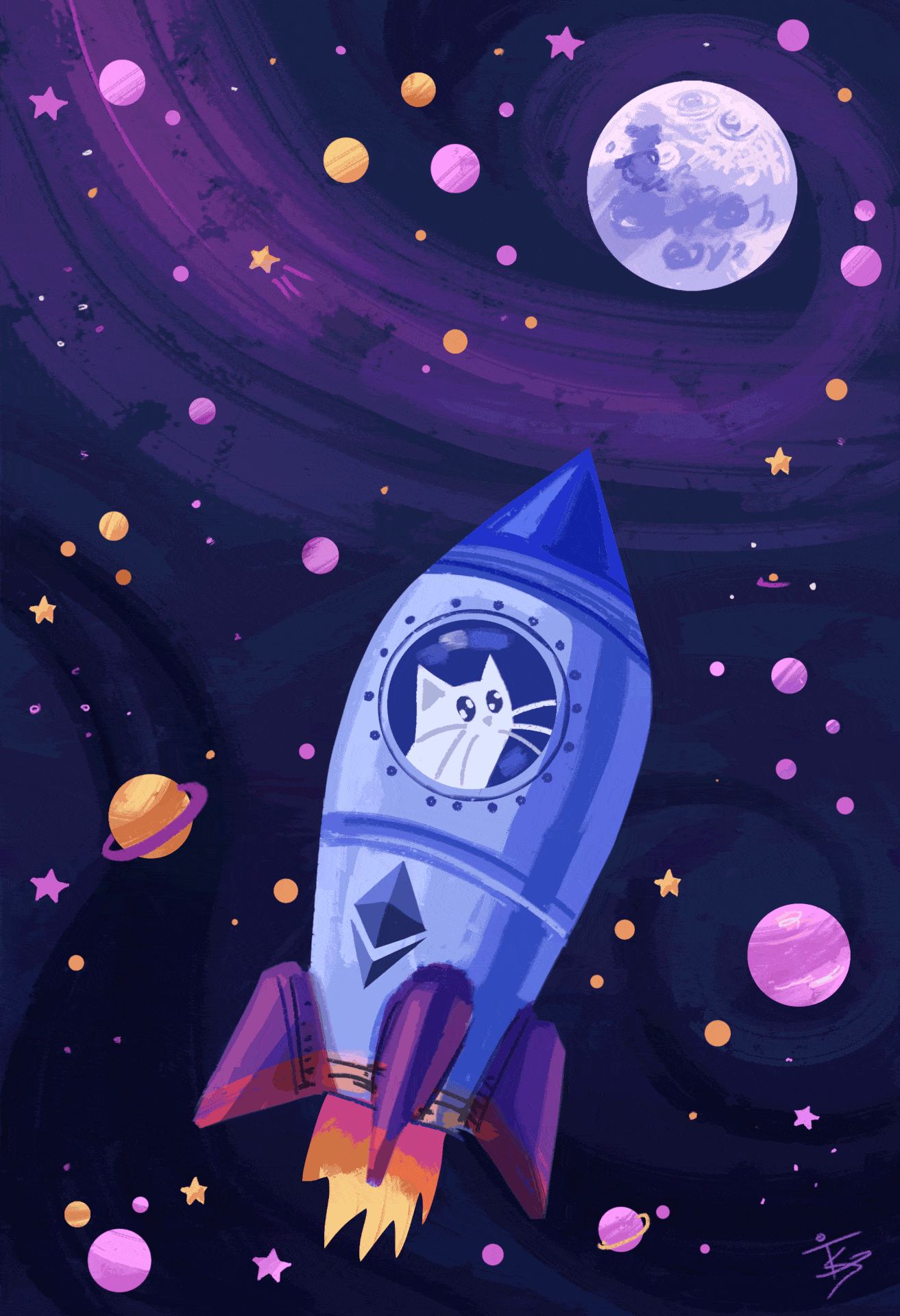 Artist Memo Atken website's calculated estimated greenhouse gas emissions associated with individual NFTs. The site went offline after Atken discovered that it "has been used as a tool for abuse and harassment".
How to keep energy consumption down?
Many solutions have been explored. Some technological ones ranging from moving from proof-of-work to proof-of-stake, or adding an additional layer to the existing blockchain, so that transactions would happen "off-chain".
But the most promising and sustainable solution might be the most obvious one : clean energy.
And alternate and cleaner forms of crypto-currencies.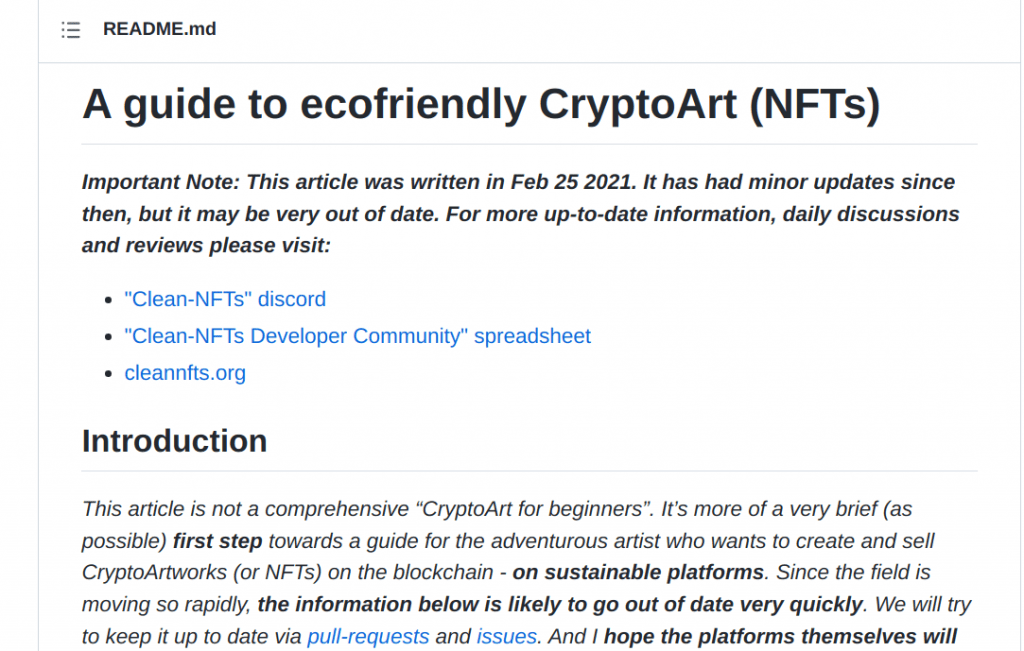 Andrew Bonneau, a carbon market advisor for Offsetra
"We believe that as users of the [Ethereum] network, we're all benefiting from it and therefore we should take responsibility for a portion of the emissions from that network."
NFT marketplaces have found ways to respond to the pushback of artists and collectors who are concerned about their environmental impact. The marketplaces Superrare and Zora have purchased offsets.
Nifty Gateway is now transferring to a system that would mint many NFTs in one transaction as opposed to many separate transactions, potentially rendering their usage of the blockchain 99 % more efficient, Cock Foster told ARTnews. 
Some NFT marketplaces brand themselves as environmentally friendly, using cryptocurrencies like Tezos. Tezos uses less onerous proof-of-stake algorithms as opposed to the proof-of-work algorithms à la Bitcoin.
5 Environmental Figures for NFTs
Tezos, Symbol, and Polygon emit less than 1% of the CO2 generated by Ethereum. (Digiconomist)

The carbon footprint of an average NFT can be reduced to mailing a physical piece of art if the switch is made to proof-of-stake. (Quartz)

An average NFT has the same carbon footprint created by more than a month of electricity usage by an EU citizen. (CBS)

Ethereum 2.0 technology could reduce energy usage by more than 99%. (Ethereum) – If Ethereum is successful in moving from proof-of-work to proof-of-stake, it could reduce the energy consumption of its blockchain by 99.95%. The transition may come in 2022.

Ethereum's power consumption is comparable to that of Hungary and Qatar. (CBS)
NFT Facts by diverse sources
Nearly $41 billion worth of crypto was spent on the NFT marketplaces in 2021. (Chainalysis)

More than 70% of Americans still don't know what an NFT is. (Finder) –

People who earn less than $25,000 per year invest in NFTs at a similar rate as those earning over $150,000. (CivicScience)

An estimated 250,000 people trade NFTs each month on OpenSea. (CNET)

 Over 50% of all NFT sales are below $200. (Artnet)

Cryptopunks account for five of the 20 biggest NFT sales. (Exploding Topics)

Nigeria is expected to have the biggest growth (21.7%) in NFT adoption. (Finder)

The top five countries with the biggest NFT adoption are in Asia. (Finder)

23% of millennials in the US collect NFTs. (Morning Consult)
The "digital Cerberus" or who are the gatekeepers of digital art?
What do you actually own when you buy an NFT?
More than the art work itself, you rather own the metadata. So we don't own the art work? No! How come?
The most common type of NFT is a piece of code written into the blockchain. The first part of an NFT is the tokenID; the second is the contract address, a blockchain address. This combination of 2 numbers makes a NFT unique. But there are other elements that can be present in the contract. Your wallet address which links the NFT, the digital signature with the art work, its originator. 
Anything that can be digitized can be turned into an NFT. Your breakfast cup, a picture of your dog, William Slater's X-rays of his teeths… Fine, but what about the copyright? Confusing situation since your art work might underlie copyright. However getting a piece of it in form of a code line does it intitle you to the entire art work?
Who can envision that somebody might pay $69 million, as it was the case for Beeple's digital collage, to just own a code line? The astromomic amount of money spent for crypto-art adds to psychological confusion and disbelief.
"While most NFTs do not involve a transfer of rights, in some instances the seller offers to turn the token into an actual transfer of copyright ownership of the original work." (source: NFTs and copyright)
But the blockchain technology itself makes it even more complex. Since it relies on immutability and open-access, these two functions cause practical ownership problems. Anyone with sufficient technical knowledge can generate their own token, and this token can include any information that is entered by the author. This means that anyone can make erroneous ownership claims, and write them into the blockchain.
Smart contracts too are problematic. The smart contract is an agreement in coded lines between different parties and stored in the blockchain, and cannot be changed! Are they cryptographic to prevent abuse and fraud? Not yet.
The Wild Wild West of Copyright infringements
Some artists have complained that their works were being minted as NFTs without their permission. Even public domain works from the Rijksmuseum in Amsterdam have been turned into an NFT. 
But is there infringement? Not really… From a copyright perspective, it is difficult to see how the minting of an NFT, even without authorization, could be considered copyright infringement. As the NFT is not the work, but a string of numbers.
One popular example was Miramax's lawsuit against film director Quentin Tarantino for trademark infringement, copyright infringement, and breach of contract, over his plan to sell NFTs based on his film Pulp Fiction. He was about to sell a handwritten screenplay. Mr. Tarantino's legal team argues that he is merely reproducing copies of his original script, a right he reserved. 
"Someone could mint hundreds or thousands of unique NFTs linked to the same creative work, kind of like printing many copies of a book," said Frank Gerratana, an intellectual-property expert at Mintz in Boston. In that sense, although each one has its own unique identifier on a blockchain, NFTs may not be considered distinct."
Tonya Evans, a law professor at Penn State Dickinson Law, IP law, copyright, and blockchain says 
"The connection to ownership versus the ability to license and use, I think, is just not understood by most people.

Then transfer that into the non-fungible token space where the token isn't the creativity, but it's connected to the creativity. It's this idea of some digital representation of some right or connection to something else. " (Source: The Verge)

 
Museums, curators, collectors, artists are the owners of traditional art, but who will be the gatekeepers of digital art?
There is a huge artistic, power and money interest in creating a structure that ensures the sustainability of the sector. The traditional art world is one of the most active players in the NFT world. Think of Christie's. It's not the moment now to miss the high speed NFT train.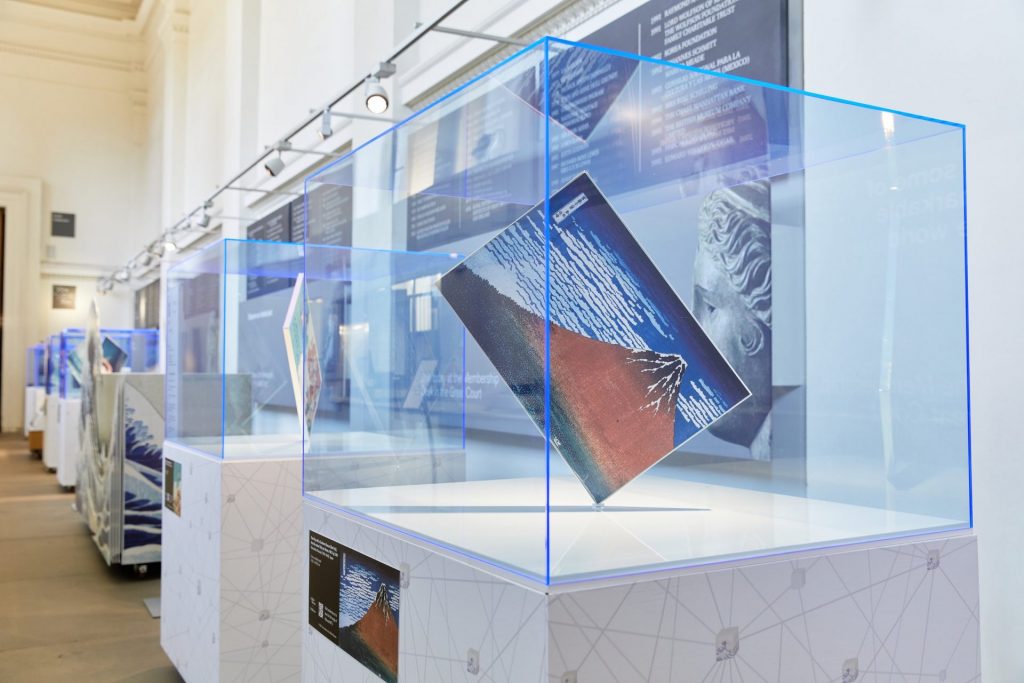 But there is a new breed of NFT art collectors. The most famous ones might be Metakovan, etyoung or WhaleShark. They are followed, courted and do set trends. 
All these greyzones create confusion and occasions, and again new opportunities for confusion and occasions. Perpetuo mobile. Nothing New under the Sun.
Thus not only the eye of the creator but also the eye of the beholder
And the beholder has many eyes now : artsy for sure, financial, technological, ecological, ethical, legal and greedy eyes. Major issues need to be solved, but until then NFTs and the crypto-world have a colorful present. 
Maybe an avartar-like futur in the metaverse, another thrilling topic for an upcoming article for the House of Ethics. "Editable and evolvable walk-in NFTs" …  YEAH!