From "Ethical Dilemma" to "Ethical Dissonance" in Cyber Physical Times. About the Coexistence of Multiple Conflicting Ethics.
Reading Time:
5
minutes
From "Ethical Dilemma" to "Ethical Dissonance": from two exclusive possibles to many inclusive possibles.
Is the traditional "Ethical Dilemma" victim of planned obsolescence in cyber physical times?

On September 12, 2023, a strange headline caught the author's attention: "Elon Musk, producer of cognitive dissonance" (article in French). Too good to be true! Mirroring the Zeitgeist?
Anything goes, a principle and its contrary, all mashed up in a heterodox and heterogeneous entity.
Once, upon a time, there was a glowing ethical and philosophical shooting star, the ethical dilemma. Now, mumbling in the corner, it seems to have lost its luster in dissonant cyber physical times.
The analog ethical dilemma seems to have morphed into a multiversed and versatile ethical dissonance in a M&A with cognitive dissonance. A nonlinear conceptual quantum leap without inference from a dualistic system towards the coexistence of the many (consistent and conflicting) possibles.
And how Swarm Ethics™ as a novel, decentralized and agile approach to group ethics based on cyber physical hyperconnectivity can be crucial and open new ways in nonlinear decision-making for individuals and corporations alike.

Even though Heinz von Förster used to claim that "definitions are no good" we gently brush the cognitive perimeters of both the ethical dilemma and cognitive dissonance to illustrate the differences and similarities of the philosophical concept versus the psychological concept. Before bridging the two, not by inference but by emerging connectivities, into new interactive possible realities.
Ethical dilemma by Socrates or Corneille
The classical ethical dilemma as inherited by Socrates is built on the duality, the coexistence of two conflicting, opposing moral possibles. It is referred to as a paradox of moral principles which are equally appealing but offer radically diverging outcomes. In corporate settings, ethical dilemmas can prove to be hard to assess in terms of moral costs. The ethical dilemma is tangent to probability, intuition, belief or inclination since none of the possibilities scientifically overrides the other.
Nowadays, daily human-machine interactions or increasing automation give rise to dilemmatic situations as they deal with risk and technology assessments, individual and corporate responsibility, and questions of autonomy.
The concept of ethical dilemma, based on a dualistic internal conflict, has preeminently been used in classical literature. In 17th century French literature, dramatist Pierre Corneille used the psychological tension with such brio that this figure the structure would be known as the famous Cornelian dilemma. It would typically make the protagonist suffer an inner conflict of choice between love, honour and duty or loyalty. In Japanese literature a corresponding concept would be the giri-ninjo, the conflicting tension between social obligations (giri) and human feelings (ninjō).
As for cognitive dissonance the picture slightly differs.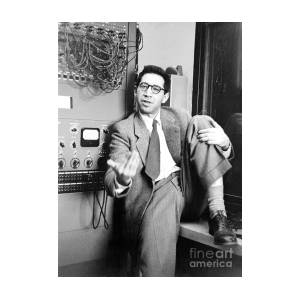 According to Leon Festinger's theory (Festinger, L. A theory of cognitive dissonance. Stanford University Press. 1957), cognitive dissonance happens when inconsistency of beliefs, attitudes or behaviors create psychological discomfort. Thus causes an uncomfortable psychological tension "leading people to change one of the inconsistent elements to reduce the dissonance or to add consonant elements to restore consonance."
Festinger's social psychological research focused on how people resolve conflict (group dynamics), ambiguity (social comparison), and inconsistency (cognitive dissonance), all matters that we are confronted with in cyber physical environments.
Fact is that both are based on conflicting sources colliding and looking for a novel output or outputs. Moving from a dualistic approach specific to the ethical dilemma to a pluralistic approach.
Has our analog, primarily binary thinking pattern been overruled by novel, ramified, in real-time augmenting and hybrid thinking schemes.
Does this introduce the renaissance of panoptical mindsets that embrace multiple possibles? Where multiplicity becomes the new normal in the digital era?
Pointing towards the shift from dualism in cognitive traditional ethics to pluralism of collective, interactive and agile approaches to ethics in cyber physical realities. With Swarm Ethics™ as a collective, decentralized and shapable mean of morals acting as tool for pluralistic decision-making.
Planned Obsolescence for the Ethical Dilemma?
Will the ethical dilemma soon become a discontinued model? Or does it simply morph from a stable dualistic frame to a malleable pluralistic pattern?
Fact is that the classical dual mind-body approach has been updated by adding nodes to the interacting information chain. External devices like phones, wearables, smart objects as well as internal technical parts like body or neural implants, RFID chips or nanobots complexifying the equation. From entity to poly-entities.
Several evolutions have taken place, from the absolutist moral and ethical authorities to progressively relative and inclusive approaches where multiple possibles coexist.
Currently, in our uncertain, nonlinear and hyperconnected socio-technological environments, the growing view on modern ethics is evolving into a pluralistic approach where multiple possibles emerge and coexist.
That's exactly what perception-action based, polysensory and empathy-prone Swarm Ethics™ is about. Its resilience stems form its agility since one of the prime principles of swarm intelligence on which Swarm Ethics™ has been built is avoiding collision, collective obstacle avoidance. Multiple possibles cannot collide but gently mesh.

One reason why traditional ethics has been outpaced by frontier, high-speed and large-scale pervasive technologies is because it is immutable, card-coded and mainly individualistic-driven.
When MIT launched the Moral Machine Project to investigate on ethical decision-making in self-driving cars, the "ethical dilemma" on which the trolley problem is based, was used as the axiomatic tool.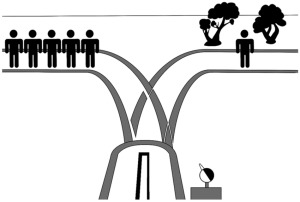 However, in our hyperconnected, federated world based on structured and mostly non-structured data was this tool for analyzing ethical decision-making in cyber physical spaces of self-driving cars or robotics or human-device-machine-implants interfaces really adequate?
The current situation pictures a convergence of multiple shifts of paradigms:
First: "in situation ethics" from absolutism to relativism to pluralism;

Second: thinking mechanism from "cognitive individual" to "systems collective";

Third: from analog reality to cyber physical (human-devices-machines-implants) realities

Resulting in generating multiple possibles that coexist.
The Triumph of Cognitive Dissonance: the Systemic Approach to Multiple Possibles
To multiply the possibles of ethical solutions and choices is nothing new. In  Heinz von Förster introduced the idea of the "ethical imperative" to counter-balance the hard-coded, absolutist and immutable Kantian ethical imperative.
"Act always so as to increase the number of choices."

"Handle stets so, daß die Anzahl der Wahlmöglichkeiten größer wird."
Von Förster's approach to ethics was agile, pluralistic and fractal. Simply put, ethics is seen as a amplificator of possibles. And the reason is linked to the notion of responsibility; the more options we generate, the less we can say that we had no other choice and shake off the responsibility of our actions.
With the cyberneticist von Förster the systemic approach to ethics was key. With Swarm Ethics™ however, as underlined by the complex systems expert Daniele Proverbio, and co-author of Swarm Ethics™, there was a need to turn to modern complex systems theories of open systems that became crucial to focus on the incessant interplay of information sharing between the multiple agents of any open system.
That's the complex yet smooth approach of perception-action and polysensory Swarm Ethics™. Hyper-connectedness, multi-versed and pluri-dimensional cyber physical worlds feed polysensory experiences and augment cognitive layers of abstractions.
Thus pulling us away from the classical analog ethical dilemma and getting us used to process cognitive dissonance like we have become more accustomed to the "uncanny valleys" in robotics.
Maybe the notion of uncertainty is not an obstacle to better ethics but a catalyst and empowerment for novel approaches to upscaling modern ethical behavior. Make people more resilient, and confident in their choices.
It's the coexistence of real complexities, and possible contradictory states of being and thinking that nurture and train the state of dissonance we all live in.
Yes, No and Maybe exist in conjunction and shape new solutions in real-time, adapt behaviors to the manifold collisions and mashing of beliefs, ideas, doctrines.
It turns out that Swarm Ethics™ embraces ethical dissonance and ethical dilemma all-in-one in a non-conflicting manner to allow multiple possibles to emerge as best fit for challenging situations and purpose-oriented solutions.
Founder HOUSE OF ETHICS
Author's Posts
Founder HOUSE OF ETHICS

Katja Rausch is specialized in the ethics of new technologies, and is working on ethical decisions applied to artificial intelligence, data ethics, machine-human interfaces and Business ethics.
For over 12 years, Katja Rausch has been teaching Information Systems at the Master 2 in Logistics, Marketing & Distribution at the Sorbonne and for 4 years Data Ethics at the Master of Data Analytics at the Paris School of Business.

Katja is a linguist and specialist of 19th century literature (Sorbonne University). She also holds a diploma in marketing, audio-visual and publishing from the Sorbonne and a MBA in leadership from the A.B. Freeman School of Business in New Orleans. In New York, she had been working for 4 years with Booz Allen & Hamilton, management consulting. Back in Europe, she became strategic director for an IT company in Paris where she advised, among others, Cartier, Nestlé France, Lafuma and Intermarché.
Author of 6 books, with the latest being "Serendipity or Algorithm" (2019, Karà éditions). Above all, she appreciates polite, intelligent and fun people.